At the rehearsal dinner for my step-sister's wedding (at which I was the photographer), I had to break from the meal for a beautiful sunset over the town green of Duluth. It was just before everything bloomed for spring, but was still a good impression of the area. I sent it to the City of Duluth facebook page, and they happily made it their timeline photo from about October 2012 through Summer of 2013.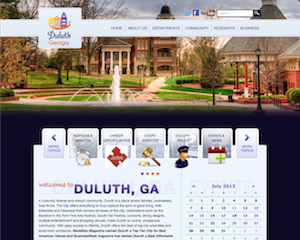 The photo was also featured beside the table of contents on several issues of the "Duluth Life" newsletter, starting with the Spring 2013 issue. In the summer of 2013 the city released an updated website which used a selection of images shown in rotation as the header of the site. The initial photo continued to be that of the town at sunset.
In July of 2013 I was notified that one of my submissions for the "Capture the Spirit of Good Living" photo contest was selected as the cover photo for the Fall 2013 "Duluth Life" newsletter. Since that time I have been fortunate to be working with the city to capture most of their live events. As such, I have had one of my images on nearly every cover of the magazine since 2013.